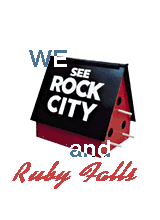 For many years the big barns of the rural South provided advertisement for Rock City, that geological curiosity formed by the action of water millions of years ago. Today the barns are mostly gone, but their image remains in bird houses and bird feeders--and Rock City and its accompanying attraction Ruby Falls still attract tourists from one end of the United States to the other.

Want to read about Rock City? Follow the link!

But if you want to see pictures of our trip to Rock City and Ruby Falls, click on!